Tom Stobart OBE (1914-1980)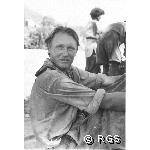 1941. Set up the first Army film unit in India.  1949-1950. Part of an international expedition to Antarctica.  1951-1952. Filmed game in Africa (the film 'Below the Sahara' was produced as a result).  1953 Filmed the successful Everest Expedition.  1954 Led the Abominable Snowman Expedition.  1956 Shot while filming in Ethiopia - crippled, but continued his career.  Took to cooking and wrote a book on herbs and four other books, including one more on cooking and an autobiography.  
Won the Hubbard Medal and a BAFTA Certificate of Merit.  Nominated for a BAFTA award for Best Specialised Film.  Died in Sussex, England on a visit from his home in Majorca.