Sir Kenneth Robinson (1911-1996)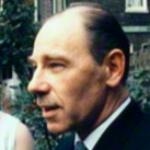 Served as Minister of Health in Harold Wilson's first government from 1964-68 when the position was merged into the new title of Secretary of State for Social Services.  He was MP for St Pancras North.  He attended Malsis and Oundle, but had to leave the latter school at the age of 15 when his father died.  
He was commissioned in the Royal Navy and promoted to Lieutenant Commander in 1944.  He retired from politics in 1970 and joined the  SDP.  He was Chairman of National Opera from 1972-1977; Chairman of Greater London Council's Transport Executive from 1975-1978; Chairman of the Arts Council of Great Britain 1977-1982 and was knighted in April 1983 for services to the Arts.
He revisited Malsis to present the prizes in 1979.  He had not been back since he left at the age of 13!