Lewis Alfred Booth - our only rugby international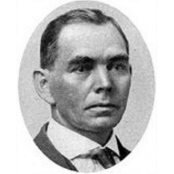 Lewis Alfred Booth, born in Horsforth in 1909, was killed in action on June 25th, 1942.  He is one of 16 boys on the stained glass windows in the Chapel.  He attended Malsis from 1920-22, the first years of the school's existence.
Lewis played on the wing for England seven times between 1933 and 1935, scoring three tries.  
He made his debut against Wales at Twickenham and concluded his international career against Scotland at Murrayfield.  His son Michael played for the same club, Headingley, and attended Malsis, as did his son Thomas.